Missions
Every year our annual goal is to raise funds for our various mission opportunities. We reach out to domestic and international families and churches, helping build or renovate peoples' homes lost in natural disasters, and providing food, clothing, toys and volunteer hours to those in need.
Find a mission that suits you. See below...
Christmas Outreach & Angel Tree

Each year, members of Good Shepherd Parish generously give Christmas joy to children of families of limited means and those with an incarcerated parent. Gifts are given to children referred to us by the Salvation Army or by the Angel Tree Prison Ministry.

Salvation Army

Good Shepherd parishioners partner with the Salvation Army in the Venice area by ringing the donation bells outside WalMart.
Habitat for Humanity/ Tuscaloosa Mission
Good Shepherd supports Habitat for Humanity building projects both in Venice and for tornado victims in Tuscaloosa, Alabama. To see the impact of a tornado this size, click here:
Each Spring we send a team of volunteers to Tuscaloosa to help the ongoing relief from the devastating tornado of 2011. If you are interested in joining this group, we invite you to view our video and then contact Dave Beall at (941) 488-7312. Click to see our 2016 story.
Weekly we provide the coffee break for local volunteers working on houses in Venice.

Habitat for Humanity South Sarasota County calls people to leave the halls of the church and to serve in the way that the original apostles served....As the body of Christ in the world.
As a Habitat partner we help raise the money, provide the labor, and the prayer support, in partnership with a local family. Several days per month our parishioners can be seen at the local building site offering their labor and enthusiasm.
Contact David Beall at (941) 488-7312.
Food Bank Distribution
Good Shepherd's parishioners hand out food supplied by All Faiths Food Bank to those in need on the first and third Wednesday of each month. We are averaging 150 - 175 clients at each distribution. We also deliver canned goods to Center of Hope.
Contact Diana Hillock (941) 223-9567.
Supporting Episcopal Missions in Central America
Good Shepherd has supported El Hogar in Honduras for several years. The mission of El Hogar is to transform and empower abandoned and hopelessly poor children in Honduras by providing a loving home and education.
To learn more about this mission,
see their video
.
To read the entire story of Fr. Bob and Margi Miller's founding of El Hogar,
download their book
(wait for the download)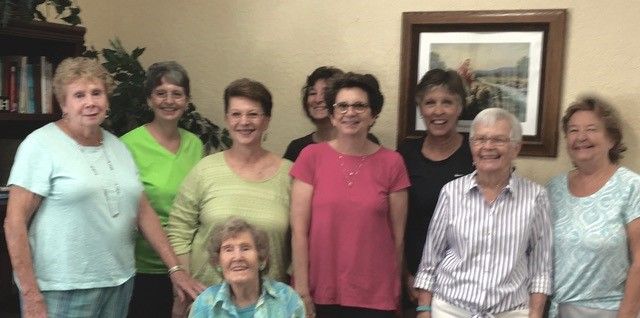 Creative Designs
Whether you are able to knit, crochet or would like to learn, please join us in creating prayers shawls, hats, blankets , and "no sew" projects for those in need. Prayer Shawls are available to parishioners who need a shawl or know of anyone in need of one.The shawls are located in the back closet in the library .
These items are donated to Tidewell,Pregnancy Solutions and St. Baldricks Childhood Cancer Research Foundation.
​We meet on the EVERY OTHER FRIDAY 9:30-12:30 in the Parish Library.
See our
video
of members in action.
Contact Barbara Johnson (941) 445-4941 if interested.