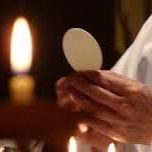 Visiting and bringing Holy Communion to the sick and shut-ins has been a long time tradition at Good Shepherd. Each Sunday, Lay Visitors are entrusted with our communion boxes and leave after the service to bring the Eucharist and our prayers to parishioners who could not be present with us. During the week our pastoral care team ministers to the needs of our parish family through prayer and personal visits.

If you are interested in this special ministry or know a parishioner who could benefit from this kind of in-home visit, let us know. Training is provided and Eucharistic Visitors are licensed through the Episcopal Diocese of Southwest Florida.

Contact Deacon Michael Kitt -- (847) 525-5546

.
Each week our bread ministry accepts generous donations from Panera and Publix and with our volunteers distributes these offerings to Habitat for Humanity, Loveland Center, Trinity Presbyterian Church, and to several individual families in need. If you know families in need or would like to volunteer a few hours a month in delivering or picking up these donations, please let us know.



Contact

Bob Sawyer (413-244-4341) rksawyer@aol.com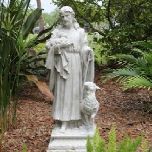 Each week parishioners and friends are invited to join a group of gardeners to spend time in our memorial gardens and surroundings clipping, weeding, planting and beautifying our grounds. We work at our own pace and as long as we wish, starting at 8:00 a.m. on Thursdays. See a video of our gatherings.


Questions: Contact Jim Dellecker 941-416-3030

Folks at Good Shepherd never want a family or loved one to have to worry about where to go to eat at a time of crisis. Our kitchens have extra refrigerator/freezer space and church members keep them stocked with soups, side dishes, main dishes, and desserts to be given out whenever requested. If you would like to contribute to this ministry or know someone in need, contact Carole LaBate at (201) 467-1711.
Good Shepherd has an active prayer group and welcomes calls or emails from parishioners and loved ones who want special prayers and support in times of need. Each Sunday members of this prayer group stand by the altar at communion time and offer individual prayers for those who wish to approach. As members enter the church and add names to the list, these names are carried forward and become part of the Prayers of the Faithful duing the service.

This group meets the third Tuesday of each month at 1:00 p.m. to update and share information on the prayer requests received from our parish family and their loved ones.

Contact E. K. Beall at (941) 488-7312 or ekaybeall@gmail.com
Parishioners who wish to have a reception following their loved one's funeral or memorial Mass may use the Parish Hall and the service of our Martha Ministry volunteers. Martha ministry provides coordination and hosting, set up and clean up.

Volunteers are always needed. Call Maggie Buonarosa (412-400-2899) paulandmaggie423@comcast.net to volunteer or to make arrangements for a reception.