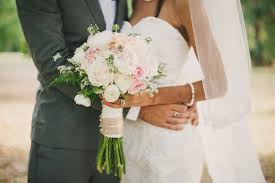 The Celebration and Blessing of a Marriage is a time for sharing with family and friends the beauty and joy found in discovering and loving one another. The Episcopal Church requires that one of the two persons must be a Baptized Christian, two witnesses are present, and the marriage must conform to the laws of the State of Florida and the Canons of the Church.

Pre-marital counseling is required by the Bishop, giving the Priest an opportunity to meet and know the couple and to discuss the meaning of the Sacrament of Holy Matrimony. Where one of the parties has been divorced, the written permission of the Bishop is required and the Priest will assist in obtaining this. Civil law permits a Deacon to give the instruction and perform the wedding if a Priest or Bishop is not available, though he cannot give the Nuptial Blessing.

The service includes the exchange and solemnization of life-long wedding vows, the blessing and exchange of rings symbolizing the union, the nuptial blessing, and the celebration of the Holy Eucharist.
L
essons from the Old Testament and the Epistles be read by lay persons, and a Priest or Deacon reads the Gospel.
The rite is found in the 1979
Book of Common Prayer
, pages 423-432.
If you are interested in getting married by a Priest at the Church of the Good Shepherd, please contact the Parish Office.