Joining Good Shepherd is usually a gradual process. When you come to worship, folks will greet you at the door and ask if you wish to wear a visitor name tag and invite you to stand during the announcement time and introduce yourselves. This is totally optional. You are also invited to stay after the service, meet the pastor, have coffee and treats, and even bring something home or to those in need from our bread table.
You are inivited to come back as often as you wish, and attend any mid week services, celebrations, or events. Once you have decided that Good Shepherd fits your spiritual life, you are invited to meet with the pastor, receive a DVD or individual instruction about the Episcopal Church. If you are already Episcopalian, you will be given directions on how to transfer your membership.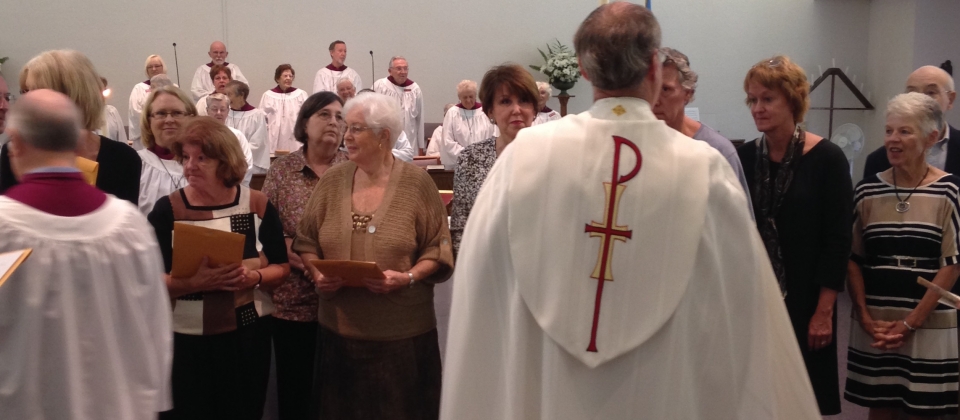 If you are interested in becoming a member of Good Shepherd Church and are not transferring from an Anglican or Episcopal Church, we ask you to complete the Membership Process in stages. It is designed to provide you with learning opportunities to become a more effective disciple of Jesus Christ while deepening your knowledge of the Christian faith. We also hope that this process helps you to begin to know people in the parish and to feel that this is your parish home.
Phase One
Alpha: An introduction to the Christian faith for people who are exploring Christianity, new to the Christian faith, or want a "refresher course." Each video presentation, by Nicky Gumbel of London's Holy Trinity Anglican Church, focuses on a single topic in an informative and engaging way. Alpha evenings begin with a fellowship dinner in the Parish Hall followed by a video presentation. After the presentation, there is a small group discussion facilitated by trained leaders. The ALPHA course is offered on Wednesday evenings from 6-8 pm for ten sessions with a course in the Fall and in the ...
more
Phase Two
You will be invited to join in Membership Sunday (early November) and to belong to the Inquirer's Class (during Epiphany Season) where you will learn the basic tenants of the Christian Faith and of the worship and governance of the Episcopal ...
more
Phase Three
Having attended Alpha and the Inquirer's Class, you are now invited to attend the Network workshop on Saturday, February 28. This wonderful program will help you discern your spiritual gifts and consider your way of serving among us in the future. If you have not been Confirmed or Received, come along with us to the Cathedral in St. Petersburg, in the Spring, to receive these ministries from our bishop during a diocesan-wide worship ...
more